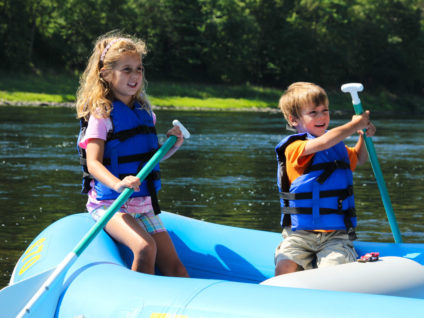 Creating memorable experiences with your children is critical to their overall sense of contentment and wellbeing, in addition to strengthening your family as a whole. When you can take advantage of the great outdoors for your family adventures, you're bound to have the kind of fun you will remember for years to come.
This spring and summer, consider taking to the Delaware River with your whole family. Although the idea of river rafting with your kids may seem daunting, the Delaware River is ideal for family fun. As a beginners river, class 1-2 white water, you will quickly realize the stability of the commercial rafts, the ease of the crystal clear water, and the safety of your children.
6 Tips for River Rafting in Delaware
For your Delaware river rafting trip, there are a few things you can do in preparation for and during your expedition to decrease stress and discomfort and increase the fun. Here are a few tips to help you create a memorable experience with your kids while out on the river:

1. Pick an Appropriate Route
By taking your kids out on a long, difficult course that requires lots of effort to navigate, you are setting yourself up for frustration and disappointment. When searching for river rafting courses, find ones that are suitable for your kids' ages and abilities. Appropriate trips are only a couple miles with relatively mild rapids, such as this 3-mile Barryville route or a 6-mile trip to Matamoras. Because of the duration of these trips being one to three hours or so, and the minimal amount of paddling required, your kids will not have to be out in the sun for long periods of time, leaving them exhausted and grumpy.

2. Follow the Packing List Guidelines
When you go to book your rafting trip on the Delaware River, the company will give you a packing list that tells you what to bring for your excursion. Do yourself a favor and pack what is suggested. You may not think you need all the things on the list, but you can trust the company has experience with thousands of travelers, as well as that particular environment. It's better to have a couple items you don't use than to leave behind something that becomes critical, such as light outerwear for spring and fall or a waterproof container for personal items.
3. Prepare for the Sunshine
Nothing spoils a trip like glaring sunshine in your eyes or a blistering sunburn. Make sure you pack and regularly apply sunscreen on yourself and your kids, even if the weather is overcast. It's also easy to lose sunglasses out on the water. Put them on straps to keep them around your neck, and even bring along a backup pair.
4. Follow Safety Instructions
Along with a "What to Bring List," you also will be given safety and paddle instructions. Stress to your kids the importance of following safe practices when they're out on the river. This may be a relatively new environment and experience for them. If everyone follows the rules, it mitigates stress and permits you all to have a good time.
5. Don't be Overprotective
That being said, let your kids push their limits a little. You may be surprised by what they are capable of accomplishing. It is natural for many kids to want to take a few risks on their adventure. Using your discretion, give them freedom and gently nudge them in the right direction. The waters on the Delaware River are crystal clear and clean. Swimming in the long calm water sections is a perfect way to let that happen. Remember that children ages 12 and under are required by law to keep their life jacket on for their safety and your reassurance.
6. Make Lodging Accommodations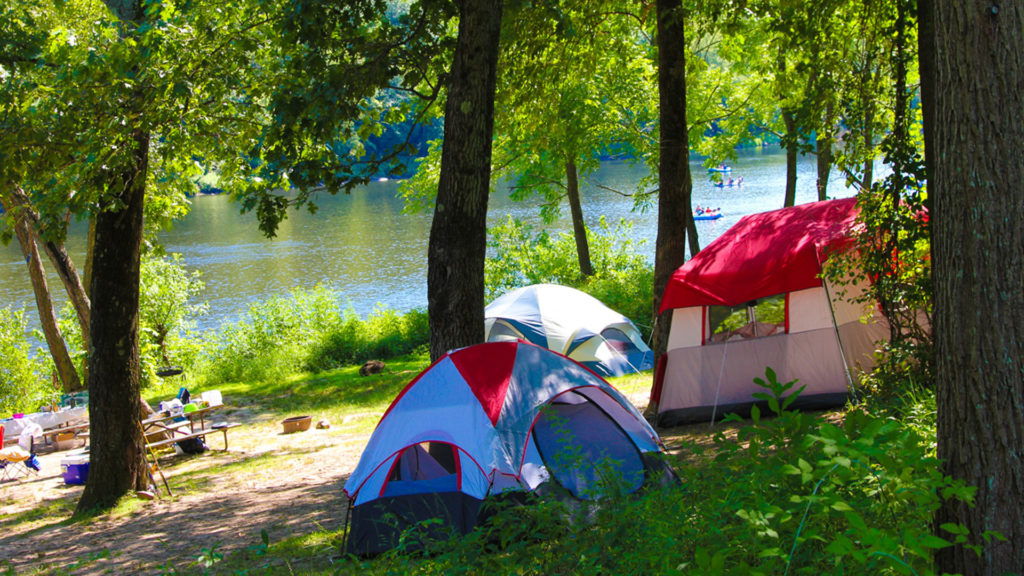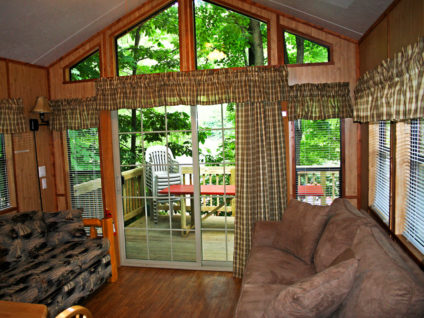 Even if you do a relatively short river rafting excursion, your family is bound to be worn out—and happily so—by the end of the day. There's no sense ruining that sense of accomplishment and fun by adding on a long drive home. Plan to stay at least one night post-rafting at our campground or cabins near the Delaware River, which will sustain everyone's good moods and enhance the vacation. Continue the outdoor adventure by setting up your campsite and sleeping riverside. There's nothing like the experience of sleeping under the stars. If tent camping is not your thing, rent a cabin. The kids will love the extra time spent roasting marshmallows by the campfire.
Planning Your River Rafting Trip
Ready to book an exciting river rafting adventure for you and your kids? Indian Head Canoes can help you embark on one of several rafting trips on the Delaware River. We provide the equipment, campsites, and instructions for your family to have a stress-free trip and create a memorable experience on the water.