Located in the corner of New York, New Jersey, and Pennsylvania, we are nestled between the lush Pocono and Catskill Mountains. Less than a 2 hour drive from New York City, we are close to home yet feel a world away. The Upper Delaware River is a National "Scenic and Recreational River", spectacular in its pristine beauty.
Did you know?
Congress recognized the Upper Delaware River as having "outstandingly remarkable scenic, recreational, geologic, fish and wildlife, historic, cultural and other similar values" and added our river to the nation's National Wild and Scenic Rivers System in 1978. Less than 1% of American Rivers are classified and protected under this Act.
Indian Head Canoes and Rafts is privileged to be operating for more than 45 years on the Upper Delaware River. We are strategically located along the best sections of the Upper Delaware River for whitewater boating, cabins and tent camping.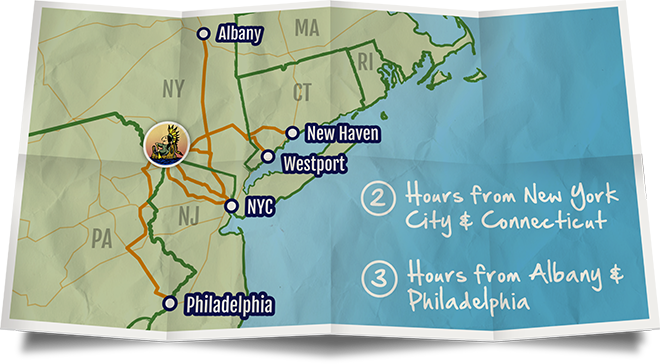 Which location is best for you?
Knights Eddy in Sparrowbush, NY
<dailyoperationschedule>
DAILY OPERATION SCHEDULE BY LOCATION
Barryville, NY Location
River Trips
Cabins / Camping
May 1 – Sept 6
Open Daily
Open Daily
Sept 7 – Oct 10
Open Daily except
Tuesdays & Wednesdays
Riverside Camping / Cabins Open Daily
Knights Eddy
Sparrowbush, NY
River Trips
Camping
May 19 – June 20
Weekends
Weekends
June 21 – Sept 6
Open Daily
Open Daily
Sept 7 – Sept 19
Weekends
Closed
Matamoras, PA
River Trips
May 19 – June 27
Open Weekends
June 28 – Sept 6
Open Monday July 5
Open Wednesday – Sunday
Closed Monday & Tuesday

* See below

Sept 7 – Sept 19
Open Weekends
*Knights Eddy will handle all river trips
that end at Matamoras on Mondays & Tuesdays.
ACCOMMODATIONS BY LOCATION
| | | | | |
| --- | --- | --- | --- | --- |
| | CAMPGROUNDS | DELUXE CABINS | LOG CABINS | BUNKHOUSES |
| Barryvile, NY | Yes | Yes | Yes | Yes |
| Knights Eddy (Sparrowbush, NY) | Yes | No | No | No |