If you're planning a unique summer adventure of kayaking on the Delaware River, we suggest five golden rules to maximize your enjoyment.
Choose an appropriate paddling location: Where you kayak should depend on your comfort and experience level on the water. Indian Head Canoes and Rafts will help you pick the adventure that is right for your skills, teach you the essentials, and guide you through the appropriate sections of the river. We offer adventures for beginners to intermediate kayakers spanning one to four hours on runs of three to nine miles.
Plan and prepare for a capsize: The kayaks at Indian Head Canoes and Rafts are designed to be easy to climb back into should you flip the kayak and fall in the water. Still, for beginners, getting back on a kayak from the water can require a little practice. We will teach you how to recover from a capsize and get back on your kayak so that you feel confident and comfortable while cruising the river.
Always wear your life vest: No matter how calm sections of the river may be, we require that you wear your life vest at all times. We will provide you with the latest life preserver equipment for your adventure.
Paddle efficiently: The most efficient way to paddle your vessel through the river is to employ torso rotation in your paddling strokes. Don't solely rely on your arms, but rather engage your core muscles to rotate your torso and pivot your waist while reaching for the water with your arms and shoulders. This will preserve energy in your arms, give you more maneuverability through the water, and make your adventure more enjoyable.
Take time to enjoy the scenery. On the Delaware River, you will witness the best of what Mother Nature offers from a unique perspective – on the water. While you will be tempted to constantly test your padding skills and perhaps navigate some white water, be sure to take time to enjoy the scenery and traversing the natural habitat among wildlife such as fish, deer, ducks, and even bald eagles during your journey.
Our kayak trips on the Upper Delaware provide memorable adventures for kayakers of all abilities. Less than two hours from New York City, this section of river is spectacular in its pristine beauty, nestled between the Pocono and Catskill Mountains.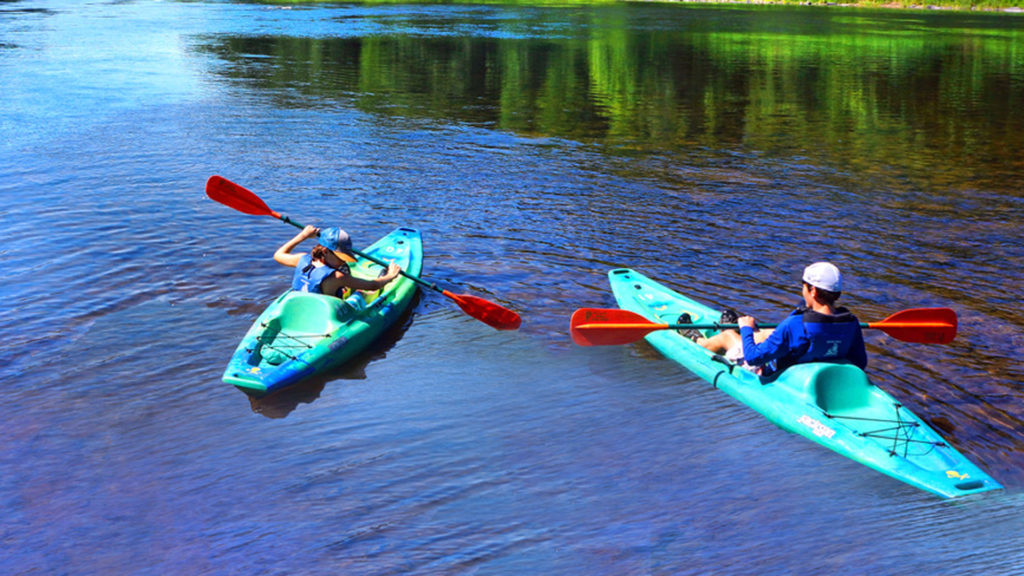 Delaware River Kayaking Professionals
Indian Head Canoes and Rafts professionals have an unparalleled level of experience when it comes to kayaking on the Delaware River. We will help you select the kayaking trip that is right for your skill level and equip you with state-of-the-art vessels and gear/safety equipment, provide instruction, and prepare you for your adventure. If you would like to learn more about our kayaking adventures, please contact us today!
Make a Vacation Out of It
We offer a variety of day trips, but if you're looking to stay a while and spend a vacation on the Delaware River, we offer deluxe cabins, log cabins, bunkhouses, and camping sites. Deluxe cabins offer a kitchen and family room, with an optional loft, while log cabins are closest to the river and feature an open room with kitchenette and bunk beds. Bunk houses are great for larger groups, with outdoor space for activities and a view of the river. If camping is more your style, we offer three different campgrounds for a spectacular outdoor experience on the Delaware River. Contact us today to learn more!