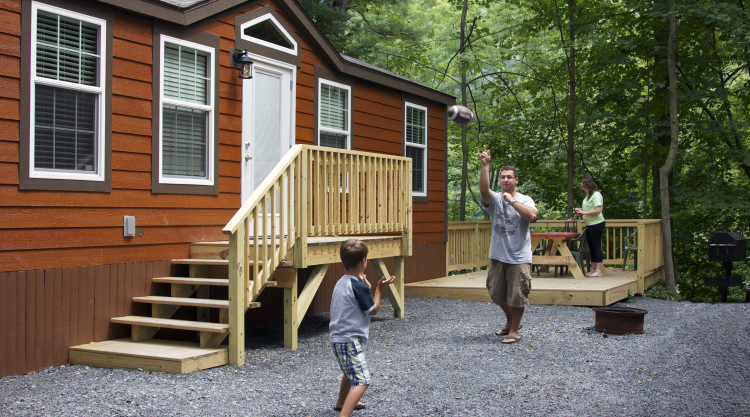 Overview
Location
Type
Sleeps
6-8
Accommodation Details
Bedrooms
2 bedrooms plus sofa bed for additional guests
Bathrooms
1
Kitchen
Stovetop, microwave, refrigerator, coffee maker, toaster, stocked.
Power
Yes
Heat & AC
Yes
Cable TV
Yes
Riverview
Yes, except for Beaver Hollow which is at a reduced rate.
Smoking
No
Linens
Bring your own sleeping bags, pillows, and towels.
Dogs
Yes. Additional fee. Registration required
Charcoal Grill/Fire Pit
Yes
Our newest cabins offer an open floor layout.  Relax with all the comfort amenities of home while enjoying the beauty of the river from your deck.  These cabins are also dog friendly.   Cabins:  Catfish Cove, Whitetail Lodge, Bass Lodge, Gray Wolf, Buckhorn
  Cabin: Beaver Hollow
River trip is required of all guests for additional charge.
Minimum 2 night stay, 3 nights on holiday weekends. 1 night exceptions based on availability.
Dog friendly
Non-smoking
Check in after 3pm    Check out before 11am
Cabins:  Catfish Cove, Whitetail Lodge, Bass Lodge, Gray Wolf, Buckhorn, Beaver Hollow Indian Head has newly adapted a dog friendly policy in the cabins listed above. Please be sure to request these cabins and register your dog in advance. Dogs are also welcome in our tent campground. $20 per dog per night; maximum 2 dogs per cabin. Security deposit of $100 will be collected and fully refunded with a clean cabin and no damages upon check out. For the safety and comfort of all of our guests, our insurance provider prohibits certain dog breeds as visitors to Indian Head.  Pit bulls, rottweilers and other dogs trained to protect will not be allowed.